One thing leads to another. When my feature story on Harold Bell Wright appeared in the April 16 edition of the Redlands Community News, little did I know that it would send me on a historic adventure with two men named Holt, both of whom wielded dynamic energy in  developing and promoting early Southern California. And both of them had a hand in the infant days of Redlands.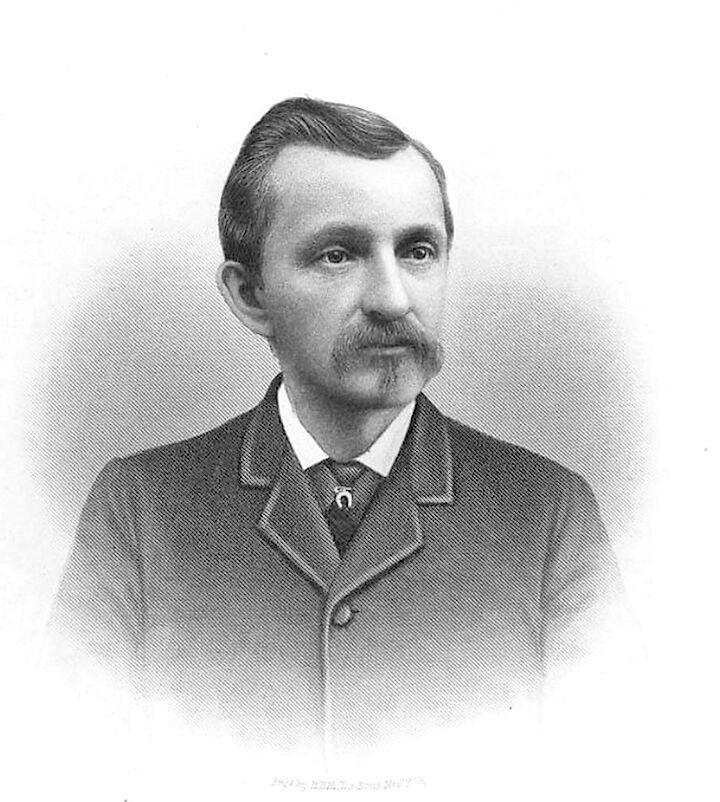 In addition to his best-selling novel "The Eyes of the World" set in Redlands, Wright's most popular novel was "The Winning of Barbara Worth" about the development of the Imperial Valley. While living in Redlands, Wright became friends with William F. Holt, the Redlands capitalist who is recognized as "The Emperor/Father of the Imperial Valley." Wright dedicated his book to Holt who is the prototype for Jefferson Worth, the novel's banker character and foster father of the orphan Barbara Worth.
Shortly after my Harold Bell Wright feature story appeared, Highland resident Jerry Tillman called to inform me that he thinks his grandmother's foster father —  Luther M. Holt — may have been the inspiration for the character Jefferson Worth. Why? Because L. M. Holt was a prominent promoter of the Imperial Valley and in 1907 had adopted a 3-year old girl, the same as Jefferson Worth in the novel.
My curiosity aroused, I began my archival dig into SoCal history. Here is the tale of the two Holts:
Luther Myrick Holt
Luther M. Holt was born Aug. 9, 1840, in Michigan and was destined to become a prominent actor in the development and promotion of Southern California. He "out boomed SoCal's earliest boomers," said Joe Blackstock, Inland Empire history writer. "Today he is really only remembered by the street named after him – Holt Boulevard that stretches from Pomona to Ontario."
After learning the printing business in Iowa, Holt came to Sacramento in 1869. In 1872 he visited Riverside and became fascinated with the citrus industry. He decided to go into the business of growing oranges on land just north of Anaheim. In 1875 he bought 2,700 acres of land to create the town of Pomona, and in 1879 he moved to Riverside and bought the Riverside Press.
Throughout the 1880s and '90s he was involved in laying settlements, advertising newly developed areas such as Pomona, Corona, Ontario, Etiwanda, San Diego, the San Joaquin Valley and Redlands.
He helped Judson and Brown select the name of Redlands, and he owned 40 acres of prime land in Redlands that he acquired in exchange for advertising the town in his Riverside paper. In 1882 he sold ten of those acres to J.S. Edwards, who built the Edwards Mansion on that site. (In later years the Edwards Mansion was moved to its current location in Orange Tree Park.) In 1890, Holt began publishing an eight-page monthly called The Orange Belt printed at the Redlands Citrograph office.
In 1882, he established Ontario's first newspaper – The Ontario Fruit Grower – before there was anyone living there. He and George Chaffey, an engineer and founder of Ontario, established California's first mutual water company for the Etiwanda Colony. Holt was a member of the original board of directors of the San Antonio Water Co. In the 1890s, he was one of the principals in the creation of Lake Arrowhead (originally named Little Bear Lake) and Big Bear Lake for irrigation purposes. He also came up with a 1910 plan to pump underground Mojave River water to irrigate new farms east of Barstow.
Thanks to Holt, more than 75,000 Midwesterners were able to see actual orange and lemon trees in bloom for the first time. He cut a deal with the Southern Pacific and Santa Fe railroads to carry him, six carloads of fruit trees and SoCal citrus products, and eight other men at no charge to Chicago where he staged a giant citrus fair over five weeks in March and April 1886. He held the event in an armory on Michigan Avenue.
In 1903, Holt established the Imperial Land Co. of Los Angeles to promote and develop the reclaimed desert area, which he is credited for naming. He also named the towns of Calexico and Mexicali. He and George Chaffey took over the floundering Colorado Desert Irrigation Project to build the main canal to carry Colorado River water to the desert. Unfortunately, the catastrophic breakthrough of the Colorado in 1906-07 that created the Salton Sea ruined him.
Perhaps his greatest promotional achievement is the 150-page Imperial Valley Scrapbook published in 1904, compiled by L.M. Holt, advertising manager, Imperial Land Co. Scipio Craig, editor of The Citrograph, Redlands' first newspaper, praised the scrapbook of 327 clippings as "invaluable from a historic standpoint" as they illustrate "the great reclamation work in the Imperial Valley."
William Holt
Known as "the Emperor of the Imperial Valley," William F. Holt was an enterprising dynamo who came to Redlands in 1900. He was born on Jan. 18, 1864, in Mercer County, Missouri. Although he had little formal education, he became an entrepreneurial titan. In his early 20s, he and his wife Fannie left Missouri and headed west to make their fortune. They ended up in the mining town of Globe, Arizona, where he started a bank for miners. By the 1890s, he was independently wealthy and decided to sell the bank and seek a better community in which to raise his two daughters.
After checking out a couple of other places in Southern California, he settled on the burgeoning new town of Redlands. He soon became a prominent citizen, and in 1903 built "Fannie's Dream House," the fabulous Holt House on the corner of Olive Avenue and Alvarado Street. Situated on four city blocks, the property includes a carriage house and rose gardens. The two-story 13-room mansion boasts a distinctive porte cochere and a bowling alley in the basement. The unique architecture is described as Mission Revival, incorporating Moorish, Spanish and Mediterranean styles.
Holt was 36 years old when he arrived in Redlands, and he quickly became interested in the reclamation project in the Imperial Valley. He decided to focus his vast energy and enterprising skills on developing that area. With his home base in Redlands, it was an arduous journey in those days to travel the 156 miles to his base of operations in Holtville, which is named for him. So, one of the first things he did was build his own railroad branch that connected to the Southern Pacific Railroad. In later years he sold that branch to the SP Railroad.
In 1908, the Redlands Citrograph reported: "W.F. Holt, the Redlands capitalist who has large interests in the Imperial Valley, has ordered built a handsome private [railroad] car which he will use in his numerous trips to the Imperial section. … It will prove a saving of time as it will be his private office while on the road."
Holt not only established the first railroad service to the Imperial Valley, he also founded the towns of Brawley, El Centro and Holton (later renamed Holtville). He founded banks in every town in the valley, as well as newspapers – the Calexico Chronicle, the Brawley News and the Holtville Tribune. He took over the Imperial Valley Press and bought out the Imperial Standard.  He started the first telephone company and bought 17,000 acres, which he sold at reasonable rates to farmers. After the towns were well-established, he sold the banks and newspapers. On April 23, 1914, The Christian Century noted, "He started whatever was necessary and then offered investors an opportunity to buy in."
By 1914 the Imperial Valley had a population of 35,000, and Holt was president of the Holton Power Co., Imperial Gas Co., Coachella Ice and Electric, and the Seeley Township Company, among others.
After the death of his beloved wife Fannie, Holt moved to Los Angeles where he died at age 87 in 1951.
His many exploits and ventures are chronicled in his autobiography, "Memoirs of a Missourian" by William F. Holt, Promoter and Founder of Imperial Valley, California, published by the Tribune Printing Co., Holtville, California.
Which Holt was the prototype for Jefferson Worth?
Although the two Holts were not related — Luther came from Michigan, was 20 years older than William, and died in 1920, 31 years before William — and there is no direct evidence that they knew each other, it seems impossible that they had not at least heard of each other, given their mutual ties to both Redlands and the Imperial Valley. Certainly, Harold Bell Wright must have known about Luther M. Holt in his writing about the building of the Colorado River canal and the subsequent disastrous flood that created the Salton Sea.
It is a fact that William F. Holt is the prototype for the banker Jefferson Worth in Wright's novel, but as an article in The Christian Century noted, "only so far as it served the author's purpose to show that capital is not always lacking in warm-hearted sympathy."
Yes, Jerry Tillman, I agree that your grandmother's foster father Luther M. Holt may have served as inspiration for other aspects of Jefferson Worth's character, and perhaps your grandmother Edna served as a prototype for his adopted daughter Barbara Worth. After all , a fictitious character is usually a patchwork of many people the author has known or read about. That is the creative process, as Bob Dylan explains in his new song, "I Am Multitudes."
Credit: Source link